Modern Solutions for Retail Shipping: Retail Parcel Lockers
Business Solutions
10 mins read
•
Fri, Feb 3, 2023
As the world of retail increasingly moves online, brick-and-mortar businesses are looking for new ways to stay competitive. Parcel lockers are becoming more and more popular in the retail industry. They offer several advantages over mailboxes, which we will explore in this blog post. First, let's start by explaining what retail parcel lockers are. Parcel lockers are essentially boxes that are used to receive packages and mail. They can be found in a variety of places, such as retail stores, post offices, or even airports.
How do parcel lockers compare to mailboxes?
If you're wondering what a parcel locker is, well... it is not a mailbox. While they can be seen as modern mailboxes, parcel lockers are essentially automated delivery boxes, equipped with a secure system, and tracking capabilities that can be used to receive packages and mail. Unlike traditional mailboxes which are only accessible during certain hours, parcel lockers provide 24/7 access for customers to pick up their packages or mail anytime they need to. This makes them a great option for those who need to receive packages or mail outside of normal business hours. With parcel lockers, customers can access their deliveries from anywhere with an internet connection, making it easier than ever to get your packages on time. You can read more about what parcel lockers are in this article: What is a Smart Parcel Locker
Key differences
Parcel lockers provide a convenient, secure way of receiving packages without leaving home. Similar to mailboxes, they are often placed in public locations or within a retail store providing access to anyone who has the code. However, parcel lockers differ from mailboxes in key ways: they can accept all types of items, parcels can be picked up 24/7 with pre-purchased codes, and are free to use for both delivery drivers and courier companies. What's more, parcel lockers can now be found in places like universities, airports, and supermarkets – making them even easier to find and use.
Where can I find a parcel locker?
Parcel lockers are a modern alternative to traditional mailboxes and have made it easier than ever to receive packages. Unlike physical mailboxes that you have to find in your mailroom or shared lobby, parcel lockers can be placed almost anywhere these days. You can even find them in places like supermarkets, shopping malls, office buildings, apartment buildings, universities, and airports. You can read more about the apartment package lockers in this article: How can Property managers benefit from Smart Lockers

.
By placing parcel lockers in public places, customers can quickly and easily pick up their packages or mail without having to worry about waiting in line or dealing with a mail carrier. Whether you're a consumer or a business owner running an office building or a store chain, they offer convenience and accessibility to all.
Who can use parcel lockers?
They can be used by any person, as long as they have access, and accept any type of package ranging from groceries to letters. With parcel lockers available in more places than ever before, they provide a safe and reliable way of receiving goods without having to visit the post office or free up time to wait for delivery.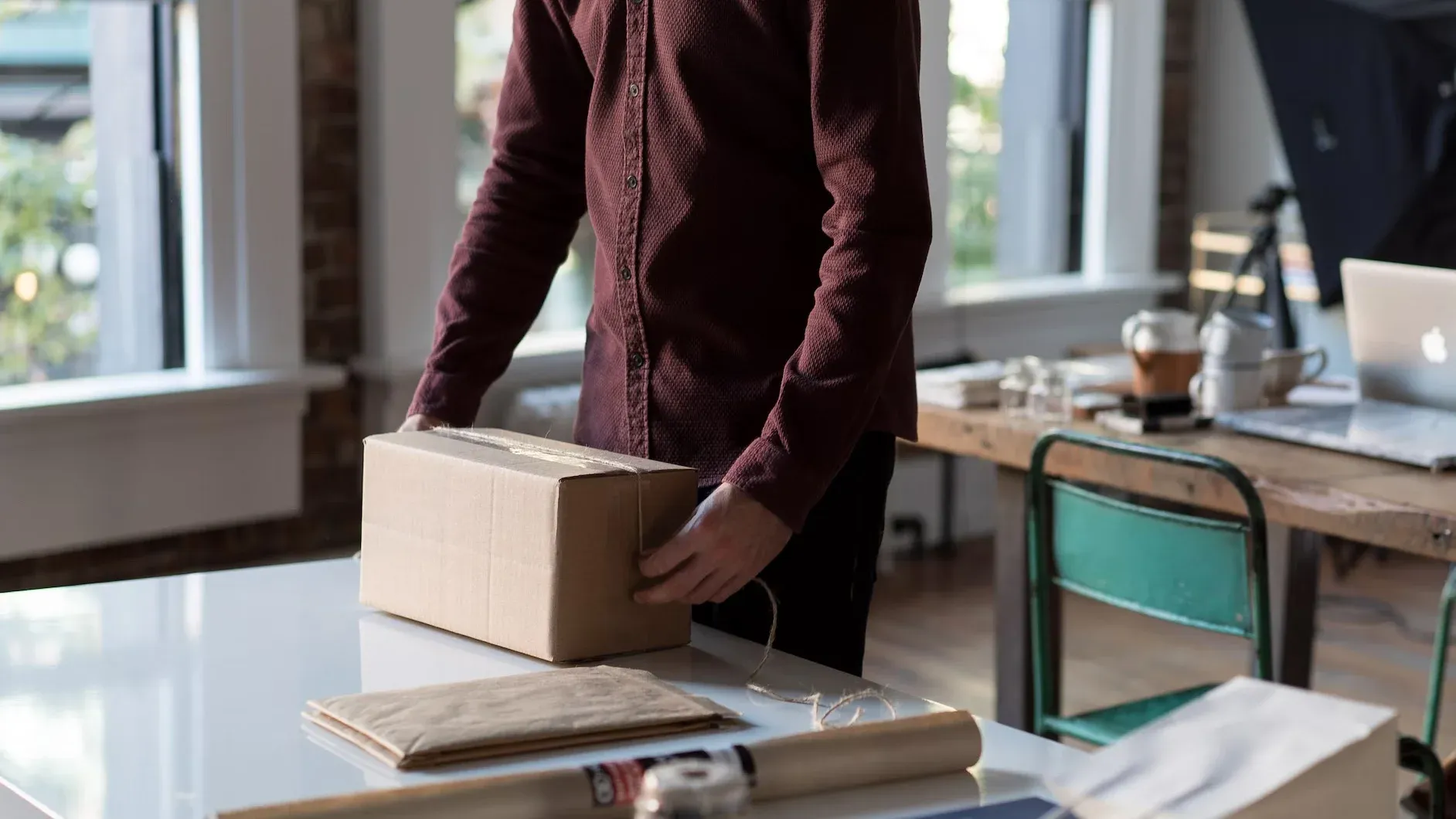 What type of packages can be sent to a parcel locker?
Package delivery lockers provide a convenient and secure way of receiving packages. Parcels can range from letters, documents, items purchased online, prescription medication, and even food delivery. However, there are certain restrictions when it comes to what types of packages can be delivered via parcel lockers, with safety and security as the primary concerns. Alcohol, tobacco, and any items deemed hazardous or illegal by the local, state, or federal government are strictly prohibited from being delivered via parcel lockers.
In certain cases, packages may require age verification. Examples of such packages include alcohol and tobacco products which are strictly prohibited from being delivered to minors. To ensure that these items are not received by those under the legal age limit, ultra-secure parcel lockers with age-detection features can be used as a solution. These lockers come equipped with age verification technology, such as facial recognition to identify the customer's age and prevent unauthorized access. This feature adds an extra layer of protection and helps ensure that only those over the legal age limit can receive packages containing these products. With the addition of age verification technology, these lockers offer a secure and reliable way to ensure that sensitive items are delivered only to those who are eligible.
Not only that, but depending on the location of your parcel locker, the list of prohibited items could be far more extensive. To find out which items are forbidden in the area, it is essential to check with the local laws and regulations. In some cases, the relevant delivery service might also provide customers with a list of items that are prohibited from being sent to their parcel lockers. For example, in some states, it is illegal to deliver prescription medication through a parcel locker, while other locations may have restrictions on the delivery of food items like perishable goods. To ensure that your package meets the requirements and regulations of each certain location, double-check with local laws before sending any type of item through a parcel locker.
What Sizes are Acceptable for Parcel Lockers
The size of packages that can be delivered to a package locker will depend on the specific compartment sizes available and the weight limitations at each location. While some locations may offer larger parcel lockers with more compartments, not all locations are equipped with large enough spaces to accommodate larger packages. In addition, some locations may also have a weight limit in place, meaning that any heavier packages will not be able to be accepted.
When sending a package through a parcel locker, it is important to take into consideration the size of the item as well as its weight. If the package doesn't fit within the compartment sizes or exceeds the weight limit, then it cannot be sent via this delivery method. Ultimately, it is up to the retailer to decide if a package can be sent to a locker or not – so make sure you check with them first before sending anything through this delivery option.
Some examples of standard parcel sizes that should fit most compartments are:
Small packages such as letters and envelopes up to 14 x 11 inches
Medium packages such as books and laptops up to 16 x 12.5 inches
Large packages such as TVs and furniture up to 17.44 x 15.75 x 17.72 inches
Overall, the size of parcels that can be sent through parcel lockers will depend on the specific location and the compartments available at each locker.
Are parcel lockers free to use?
Parcel lockers in retail businesses offer a convenient way to receive parcels, but are they free to use? The answer is yes in most cases – there is no cost associated with sending or receiving deliveries via parcel lockers. This is large because parcel locker companies have been able to create a financially efficient system of delivery, with costs absorbed by partnering retailers and the initial investment required to securely install the lockers. Of course, there can be costs associated if you require a specific type of delivery; however, such services tend to be optional extras rather than part of the standard service model.
Some marketplace websites offer parcel locker networks as a logistic and delivery service to their retailers. Whilst there are some cases where these services may come at no cost, retailers and consumers should be aware that they could incur a fee to have the goods delivered to a parcel locker. While the fees associated with using parcel lockers vary depending on the type of service and provider, it is important to be aware of any potential charges that may be incurred by using a particular parcel locker network. Additionally, some marketplace websites may charge a fee for providing access to their retail partners on the platform. It is therefore important to do your research ahead of time and make sure you are aware of any fees associated with using a particular service. This way you can ensure that you can take advantage of the best possible service at an affordable price.
What companies use parcel lockers?
Parcel lockers solutions provide an easy and convenient way for retail businesses to ship their products. In comparison to a traditional mailbox, parcel lockers are available 24/7, meaning customers can pick up their delivery as soon as it is shipped. They can be used by any shipping company that offers locker services, including USPS, FedEx, UPS, Amazon, Walmart, Target, and Apple have all started offering locker services for their customers. In Europe, companies such as DHL, Swiss Post, Carrefour, Tesco, ASDA, and Lidl are using parcel lockers to help customers pick up their orders. Additionally, in countries like China and India, locker services like BeyondPods and Slice have been gaining traction.
How safe are parcel lockers?
Parcel lockers are extremely safe and secure for sending and receiving packages. You can read here all about parcel locker security. All parcels sent via parcel locker networks undergo rigorous security checks before being accepted by the locker itself. Furthermore, codes or keys are required to access the locker, meaning that only those with the correct access can use it. As such, you can be sure that your packages will remain safe and secure within their designated parcel lockers until they reach their intended recipient. All in all, parcel lockers provide an incredibly secure way of sending and receiving goods without ever having to worry about their safety.
Are parcel lockers eco-friendly?
Using parcel lockers is an incredibly eco-friendly way of sending and receiving goods. As parcels can be securely sent without ever needing to leave the house, this eliminates the environmental impact associated with traditional delivery methods such as trucks or vans. Furthermore, the security locks on parcel lockers also mean that goods are not exposed to the elements, which helps to reduce waste. All in all, parcel lockers offer an incredibly convenient and eco-friendly way of sending and receiving goods that ultimately helps to protect the environment.
Why retail businesses should consider using parcel lockers?
Retail businesses can benefit greatly from parcel lockers when it comes to shipping products, providing greater convenience and flexibility than traditional mailboxes. Parcel lockers are increasingly available for customers to conveniently retrieve their items without a delay or the need for additional effort. Logistic efficiency is improved since packages can be sent directly to the consumer's chosen location. Furthermore, using a locker system such as this is cost-effective since businesses would not be paying shipping costs associated with other delivery methods. As a bonus, parcel lockers can be placed anywhere that makes sense logistically - both inside and outside of retail spaces.
Parcel lockers are a great option for retail businesses to ship their products. They offer several advantages over traditional shipping methods, including availability, convenience, and cost. If you're looking for a new way to ship your products, consider using parcel lockers.
The AK-201 Smart Parcel Locker by ARKA Industrial Automation is the optimal parcel locker choice for retail businesses that want to ship products securely and efficiently. This automated parcel locker allows customers to pick up their packages from the convenient, 24/7 touch-screen access display. It is equipped with a secure locking system, which ensures the safety of all items stored within the locker. The AK-201 also features a range of user-friendly features, including various-sized compartments to suit any size package. Furthermore, its built-in tracking system helps businesses monitor their packages without causing a financial strain. With all these features, it's clear why the AK-201 is the ideal solution for shipping in the retail industry.
Whether you're running an online marketplace or a store network, ARKA Industrial Automation's turn-key retail parcel locker networks are the perfect choice for efficient and secure shipping. With its easy-to-use design and reliable locking system, you can trust that your products will make it safely to their destination.