10th anniversary edition of the 'Courier and Postal Services' forum organized by Govnet
Intelligent parcel lockers
16 mins read
•
Tue, Apr 18, 2023
Before detailing the topics discussed at the 'Courier and Postal Services' forum, we would like to congratulate the Govnet team for the 10th anniversary edition that we are glad to have participated in. Mr. Ulmanu Lucian, CEO and founder of ARKA Industrial Automation had the honor to be one of the guest speakers among the CEOs of the largest companies in the industry, as well as the presidents of national institutions such as ANCOM, ANAF, and ANPC.
The postal and courier industry is a critical component of global commerce, providing an essential link between businesses and consumers. To address the challenges and opportunities in this dynamic sector, industry leaders gathered at the recent postal and courier industry forum. The event provided a valuable platform for exchanging ideas, exploring trends and innovations, and networking with peers. In this article, we'll review some of the key insights and highlights from the forum.
Mr. Sebastian Hotca, Vice President of ANPC (National Authority for Consumer Protection), spoke about the amicable settlement of disputes, a form through which the majority of complaints from last year found their resolution directly with the economic operator.
Mr. Teodor Alexandru Georgescu, the General Director of the National Agency for Fiscal Administration, spoke about the generous time allocated for prevention activities and the need to introduce 395 declaration within courier companies to limit tax evasion and non-compliance in the e-commerce field, specifically for online stores, in the interest of fair competition.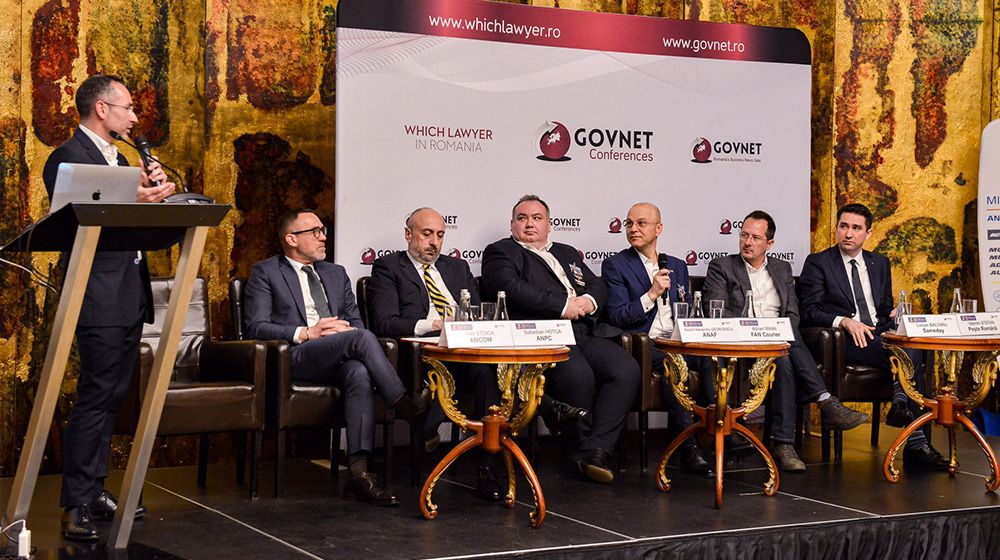 Among the information shared, he said that there were 17 million shipments with cash on delivery, with a volume of over 5 billion RON, and that 23 courier companies had submitted the 395 declarations to ANAF.
Mr. Adrian Mihai, CEO and Founder of FAN Courier, spoke about the growing confidence in food commerce orders.
'Last year, towards the end of the year, there was a decrease in online sales, but not across the entire market, only for expensive products. For cheaper products, around 20 euros or below, there was an increase.

Now, at the beginning of the year, we see growth in the West, and if this trend continues towards us, it means that the first part of the year will be weaker, but the second part of the year will have growth and development in the market. I believe in our market and its development.'
Mr. Lucian Baltaru, CEO of Sameday Romania, spoke about the company's more moderate plans and a focus on customer experience, as well as the optimization of the parcel locker network. He also mentioned the important focus on increasing the adoption of the Easybox parcel locker network and increasing cross-border commerce (Hungary and Bulgaria).
He also stated:
'Our estimates are that e-commerce will double in the next 7 years, which means more than just a doubling for us, because as e-commerce grows, the average order value decreases, which means more deliveries. We are counting on a compound growth of 10-15% per year in the next 7-8 years, with the probability of a slower start for this year.'
Mr. Adrian Mihai, CEO of FAN Courier, and Mr. Lucian Baltaru, CEO of Sameday Romania, mentioned that courier companies in Romania should share the parcel locker network to provide better and cheaper services to customers.
Mr. Adrian Ion asked:
'When building the locker network, are you thinking of creating a potentially open system for other courier companies to access it?'
Mr. Adrian Mihai, CEO and Founder of FAN Courier answered:
'I believe that lockers have become an important trend not only for us, FAN Courier, but for the entire market. If we look at our neighbours in Poland, there are tens of thousands of lockers, and from my knowledge, investment in locker networks continues. The same thing is happening in our market, where I now think there are thousands of lockers, but in 2-3 years there will be tens of thousands of lockers because every company is trying to build its own network.

Traveling through Europe, I have seen 6-7 lockers of different companies placed in the same location because I presume it was a good spot. Everyone has spent money on that location, electrical network, and rent space.

I have said it before, and I repeat it: I think courier companies in the Romanian market should share this network of lockers to provide better and cheaper services to customers. This is my opinion, and I have discussed it with Mr. Lucian Baltaru, CEO of Sameday Romania, and other members of the market.

I believe in sharing these parcel lockers for efficiency and to offer cheaper services to our customers. We believe that we will have thousands of lockers in the coming years. We believe that Sameday will also have several thousand lockers. From what I understand, the Post Office plans to invest in lockers, and other companies in the market also want to invest in package lockers. I think parcel lockers will appear like mushrooms after rain, and they will be present on every corner, which is good because they meet our customers' desire for independence.

They no longer have to wait for the courier during the 9-12 or 9-17 schedule but can pick up their package near their home or office in the best conditions. This diversification of delivery channels is the future of courier services.

When courier services started, delivery was only door-to-door, and this delivery still exists, but more and more customers want these parcel lockers. As for the budget, I cannot state that we have shareholders who offer us an unlimited budget, as my colleague on stage declared.

We are more constrained, and we can only invest from what we have produced or from possible bank loans. Last year we invested around 36 million euros, and I think this year we are still around this amount, depending on certain authorizations that we will or will not receive for these investments.'
Mr. Adrian Ion said:
'Mr. Baltaru Lucian, you were the promoters of deliveries through Easybox lockers, and the market thanks you for it because you have contributed to educating consumers in a way that has created some trends and now, we are having a competition discussion with other courier companies for locations and real estate. What is your approach in developing the locker network?'
Mr. Lucian Baltaru, CEO of Sameday Romania replyed:
'Indeed, the Easybox locker project started in 2018, when we installed the first 100 Easybox package lockers. At that moment, we didn't believe that these metal boxes would fundamentally change the courier industry, but they did, because they bring value to all stakeholders involved.

At present, we have 4,700 lockers in Romania, Hungary, and Bulgaria, of which 3,700 lockers are in Romania. We are following a very important indicator for us, the walking distance from any point in the city. In Bucharest, we currently have an average of 4 minutes walking distance, from any point you can find an Easybox, and the average time for the entire country is 7 minutes walking distance.

We want to reach 2-3 minutes walking distance in the next 3 years, so that the lockers are very close to consumers. Basically, the new courier infrastructure no longer relies so much on cars and human resources. The infrastructure takes the package to a fixed point, where the courier and the customer no longer depend on each other.

This is where the major benefit in efficiency, customer experience, and unit economics comes in because today, a courier from Sameday who delivers to Easybox, delivers an average of 500 packages per day, while a courier who delivers door-to-door reaches an average between 100-200 packages per day.

The difference is additional productivity, which goes back into the cost of shipping. It is a cheaper way of delivering for e-commerce, a better customer experience for the consumer, a more sustainable long-term delivery that has a carbon footprint that is 2/3 smaller than classic delivery, but which can reach a carbon footprint that is 96% smaller if we have energy-independent battery lockers, that are supplied using electric cars.

Lastly, this delivery method is easier to scale during peak periods such as Easter, campaigns, Black Friday, and December. Through package lockers, scaling is much better because during seasonal peaks, Easybox can increase its capacity by 2-3 times since we encourage customers to pick up their packages from the lockers during those periods.

This happened, and we experienced it during the last Black Friday, where the average pickup time for a package decreased from 4-4.5 hours to 2-2.5 hours. Of course, we encouraged this through campaigns and contests where if customers picked up their package within the first 2 hours, they could win prizes.

We strongly believe in this infrastructure, and I, like Mr. Adrian Mihai, believe in its opening and common use. It's not easy from a commercial and legislative standpoint, and there are some challenges that need to be clarified. What I can tell you is that for Hungary, we are in a process of opening a parcel locker network together with 2 competitors there. It seems that the legislation is more open to such consolidations than here in Romania.'
Continuing the forum, Mr. Adrian Ion said to Mr. Ulmanu Lucian:
'You mentioned in a past interview that the autonomous locker is the locker of the future. What does it look like?'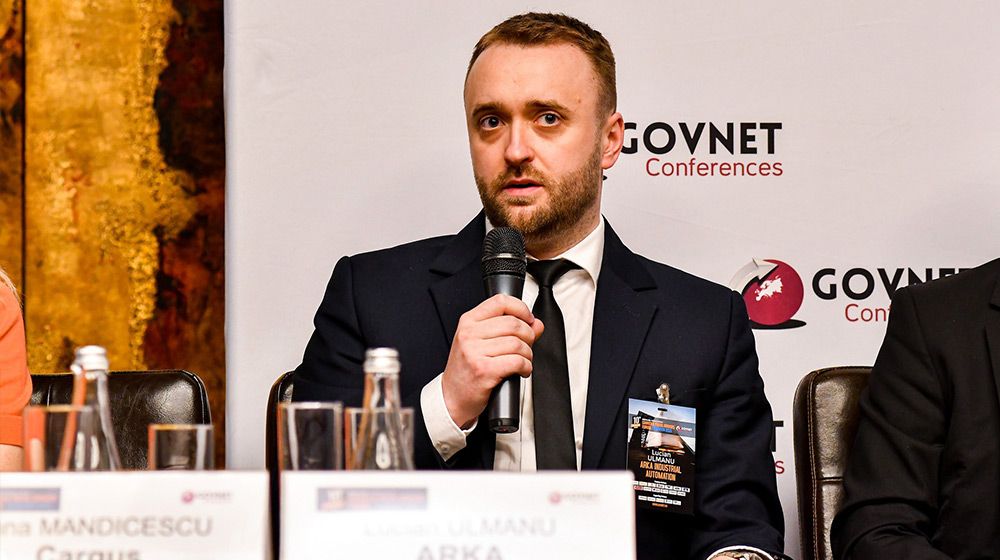 Mr. Ulmanu Lucian answered:
'Arka has just launched an autonomous locker. From the market research we conducted, it appears that the locker we launched is the most technologically advanced at the international level because we managed to take almost all the functionalities of the classic locker and transpose them into the energy-autonomous locker.

When I say almost all, I mean with the exception of the large monitor, which we are currently working on, and for which we have a solution as well.

Our locker is energy-autonomous because it has its own energy production, lighting, all security systems, video alarm, QR code, pin pad, GSM, remote access, many functionalities that have not been found and are not fully available in any locker models launched by other manufacturers in the world, according to the market research we have conducted so far.

We have been able to do this only because we produced our own electronics, from programmed microchips to every circuit on that board, which allowed us to manage consumption and all functionalities. You cannot do this with electronics from China or with restrictive electronics.'
Mr. Adrian Ion asked:
'Are you currently delivering to companies outside the country or only to those within the country?'
Mr. Ulmanu Lucian answered:
'At the moment, we are making efforts to respond to all international requests. We are in the pole position for famous companies in the world who are starting pilot projects with parcel lockers.

Ms. Oana Mandicescu, Chief Sales Officer of Cargus, spoke about the company's autonomous lockers and the investments made in technology and digitalization. She confirmed in unison with Mr. Sorin Ionascu, Zebra Technologies representative, and Mr. Ulmanu Lucian, CEO, and founder of ARKA, that the need for autonomous parcel lockers, such as those installed by Cargus, is clear and that they are meant to bring numerous benefits to customers through flexibility and delivery options.'

'In terms of technology and digitalization, they have been the main objectives of Cargus. We have invested in digital applications and solutions to ease the operation mode for the team and customers. Here, I would like to mention the in-house Cargus Mobile application, which was the most downloaded application on Apple Store and Android, and then the flexibility with which we work on the delivery and PUDO points.'
Ms. Oana Mandicescu mentioned the desire for operation-oriented towards card payments, rather than cash, and promoting these payment methods to Cargus' merchants and customers.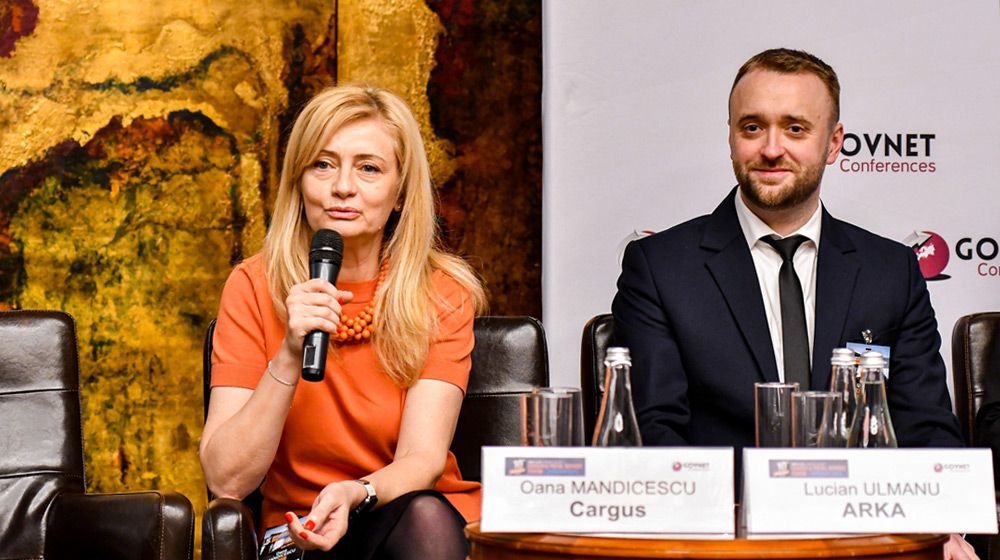 Mr. Valentin Stefan, CEO of the Romanian National Post Company, talked about the local market's interest in RCA insurances, mentioning that the Romanian Post's stake is not necessarily profitability, but rather the need to solve fundamental problems of Romania, as well as modernizing the company and digitizing it.
Mr. Adrian Ion, asked the following question, and he replied:
'The social role of the Post is evident to everyone, but as I see your approach, I think you are trying to take the Post into the commercial efficiency zone. What is the investment budget for the Post for this year, and where will the money go if we set aside the money allocated to social obligations?'
Mr. Valentin Stefan:
'The Post's budget is as much as needed. We have the strongest shareholder in the country, so if the Romanian state says, 'we want to solve a certain problem of the country,' it can increase our budget unlimitedly. Of course, we don't sleep with the idea that we have an endless amount of money, but we focus on a few clear directions.

On the one hand, there is a need to digitize the country. Earlier, we talked about payments with a card, even though we would like to have more card payments, almost half of the population cannot make such payments because they do not have the necessary infrastructure. So that's what we're trying to do, silently modernize Romania.

Believe it or not, thanks to the Romanian Post, there are thousands and thousands of Romanians who are served modernly for the first time, technologically served by the National Post Company. It is the first time Romanians interact with a barcode reader to pay their energy bills. For us, it is a trivial thing, we have all had phones for the past 10-15 years, but they are interacting for the first time. We want to grow this network of modernization and technological upgrading of the company so that we can offer all Romanians access to modern services.

Secondly, we are trying to streamline the company's services, starting from administrative software to commercial software. The Post has 20-year-old software, we don't hide that, it is evident in the daily queues at the post offices.

Thirdly, we are trying to create this commercial infrastructure, starting from logistic centers to digital mailboxes. I am glad we have Mr. Stoica Vlad, the president of ANCOM, who says that we need to modernize the postal law, and I hope we will have a law that responds not only to current needs but also sees a bit into the future.'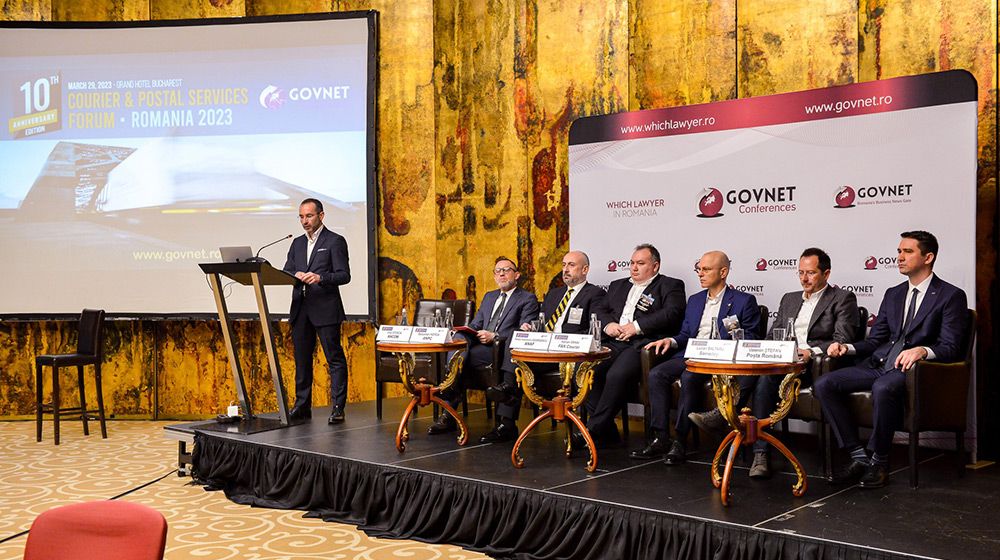 Mr. Cristi Petcu, General Director of Pink Post, mentioned the over 500,000 people who don't have an exact address on their ID, other than the village and county, making it difficult to find them for deliveries. He reminded the necessity for ANCOM to initiate a discussion with other competent authorities regarding the resolution of this situation.
Mr. Costin Gavrilescu, Founder of Colete Online, talked about the new services they are considering adding to their portfolio, such as deliveries to package lockers in partnership with FAN Courier and DPD.
Mr. Ionut Liviu Pricop, COO of Bringo, discussed the company's growth vectors, as well as improving customer trust through a personalized shopping experience and a transparent process through their app.
Other topics addressed included click & collect, improving services based on feedback received, same-day scheduled delivery, and other delivery times.
He declared:
'As I mentioned before, delivery time is very important because if you promise a delivery time to the customer who is tracking you through the app and you don't meet it, it leads to complaints and dissatisfaction. I would like to add a clarification about complaints because they exist!

We are not robots, and we don't do everything perfectly. In the case of complaints and reports, just as we promise a short delivery time of 90 minutes, the resolution time for complaints is also very short, currently at 10 minutes - handling and resolving, thanks to our Customer Support team. We still have that human touch, we don't currently use robots to communicate with our clients.'
Mr. Gheorghe Bogdan, Territory Manager for EE Honeywell Safety and Productivity Solutions, talked about the importance of technology in the postal and courier industry and the software solutions that enable real-time process optimization. The same technology allows for reducing the training time for personnel, regardless of their location.
Mr. Cosmin Gheorghe from Ford Romania talked about the advantages of an electric vehicle:
The price of the car, supported by state subsidies in Romania;
Lower maintenance costs for electric vehicles compared to internal combustion engine vehicles;
Reduction of carbon footprint.
Mr. Vlad Calbaza from Michelin Romania spoke about:
Sustainable mobility, productivity, predictability, and profit;
Michelin's plans for environmental protection and the goal of achieving carbon neutrality by 2050, in the context of last-mile delivery fleets;
The airless tire, which will be launched by the end of this year, with 50 DHL Express vans equipped with this type of tire for last-mile delivery.
Mr. Sorin Ionascu, Country Lead at Zebra Technologies, talked about what innovation means for a company with a history of over 50 years, which supports customer needs through a portfolio of solutions and products that are as comprehensive and well-structured as possible, with a product lifecycle that can be extended up to 10 years.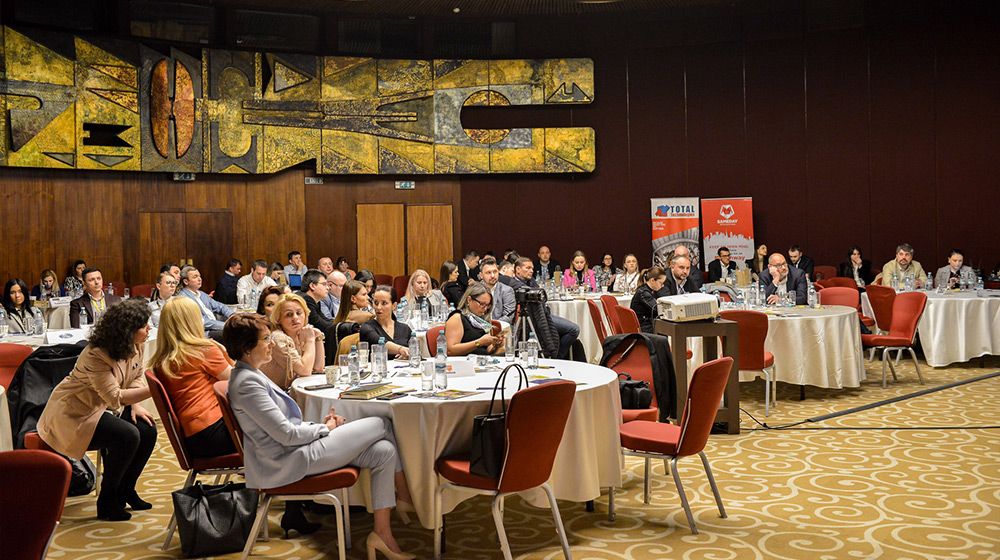 Mr. Răzvan Drăgoi, Deputy CEO Smart ID Technology, discussed the simplification brought by technology adoption and the importance of an integrator, such as Smart ID Technology, in bringing together the right hardware, the right software, and the right automation in a turnkey solution. 'If we have an integrated approach to digital adoption, the benefits will be immediate.'
Mr. Sorin Hortopan, Sales Director at PayPoint Romania, stated:
'Indeed, PUDO delivery to the store near home, is a cost and time optimization solution for couriers, in addition to parcel lockers. PayPoint has a high profile and a wide coverage at the national level through its approximately 20,000 partner stores. We have already partnered with FAN Courier, Cargus, and GLS Romania, and people are starting to get used to picking up their packages from the store near home.

At the same time, we can also talk about solving the problem of numerous returns for which courier companies are looking for accessible solutions for customers. Everything translates into fewer costs for courier companies and less time wasted for couriers.'
Mr. Dragos Arnautu, CEO of FAN Delivery, spoke about the trends and challenges in the quick commerce segment.
In conclusion, the forum dedicated to the postal and courier industry represented a valuable opportunity for business leaders and industry experts to discuss and debate important topics, exchange experiences, and explore new trends and innovations in the field. Through presentations, discussions, and networking sessions, participants had the opportunity to better understand the challenges and opportunities facing the industry and to identify solutions to successfully overcome these challenges.
Certainly, the forum was a highly successful event and a source of inspiration for those present, and the ideas and perspectives discussed here will remain relevant for the future development of the postal and courier industry.